Neighbourhood Goods Market - Part I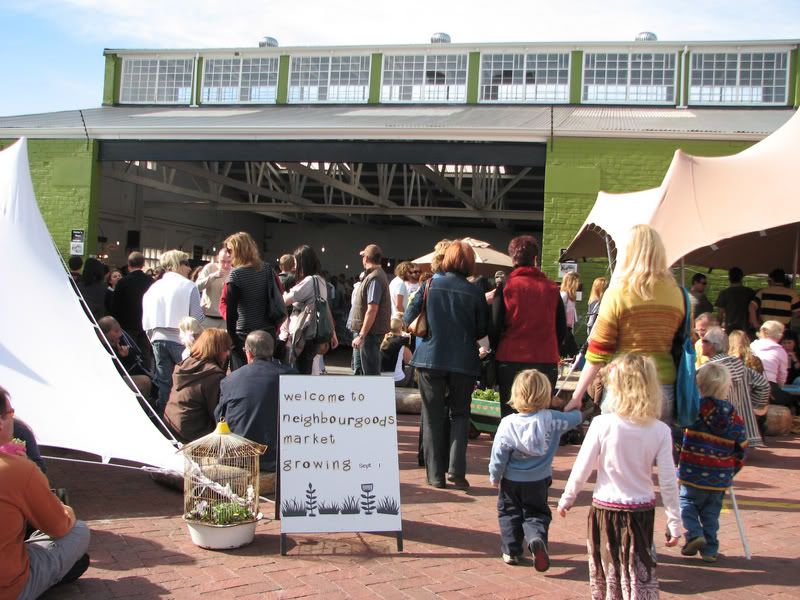 OK, so I was wrong about the market.
When I returned from the States at the end of last year, I was cautiously excited when I heard that Cape Town now had its very own farmers-style market. At the moment, farmers markets are undergoing a massive revival worldwide, as part of the Slow Food, Seasonal-Local-Organic trend. In the States, there were three farmer's markets within walking distance of my university, and when I worked in California, every suburb in the Bay Area had its own thriving weekly market. And of course, there was San Francisco's Ferry Plaza, that Mecca by which all other markets are judged – and invariably found lacking. But South Africa doesn't really have a tradition of farmers markets, for all our agricultural leanings. We have farm stalls, yes, but farmer's markets? They are few and far between. But as with all food trends, we follow our northern hemisphere peers, albeit five years behind the curve. Enter: the Neighbourhood Goods Market.
Salt River is a somewhat rundown but historically characterful industrial-commerical-residential suburb, just waiting (or dreading) the urban gentrification of its rundown Cape Victorian cottages. An ominous forecast of bourgeoise things to come, The Biscuit Mill sits at its heart - a renovated factory complex, peddling industrial-chic galleries, cafes and stores to people who most definitely don't live in Salt River. But they (or should I say, we) like to pop by on weekends, in our SUVs and superhatches, and pick up hand-crafted chocolates and artisan levain breads, before fleeing back to our safer, cleaner suburbs. Aah, the thrill of 'roughing it'! OK, so farmer's market it ain't. A great source of hand-crafted, sohisticated food products, it most certainly is. It's just a matter of steeling yourself against the crowds, and knowing to avoid the bad organic coffee, the overpriced cocoa meringues and other pitfalls.
Which is why I was underwhelmed on my first visit. But now, a year older and wiser, I'm to be found there every Saturday morning.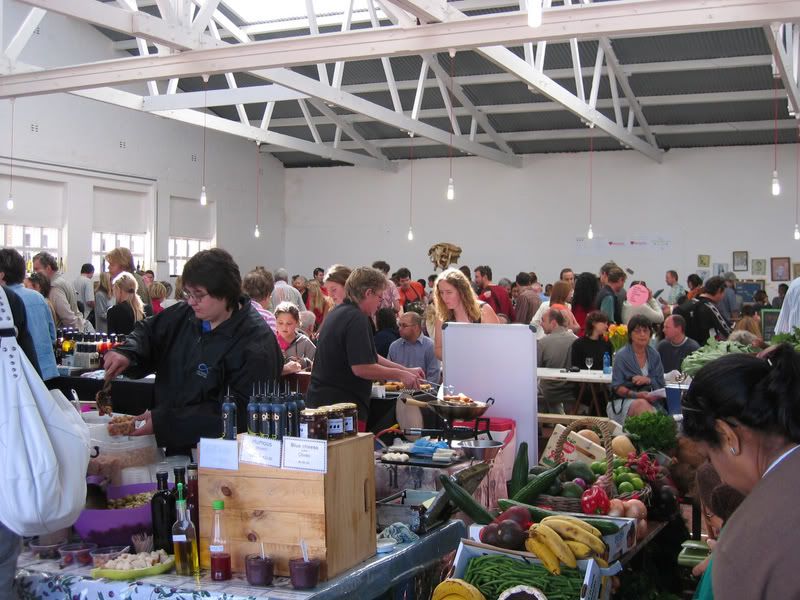 Here's my recommended EATING itinerary:
Arrive early. I.e. By 9.30am, before the dog- and child- toting hordes really arrive.
Hit
Farm Food
, a stall run by an actual farmer, for an egg and bacon roll (R25). The scrambled eggs are creamy, the bacon lovingly cured – and all are guaranteed to be gone by 10.30. This is also where you can pick up exotically flavoured boerewors (fig, anyone?), whole rabbits and unpasteurized milk.
The coffee at the market sadly isn't worth your time (or caffeine high), so rather hit
the drinks bar
, by the entrance, for a Virgin Raspberry Mule (R15)– Stoney Ginger Ale, raspberry puree and mint. Or if you can handle the hair of the dog at 9.30am, get them to add a shot of rum.
I am a big proponent of dinner foods for breakfast, so I usually move onto a vegetable curry (R28) from the friendly folk at
the curry stall
. I think this is one of the best Cape-style curries available in Cape Town, especially when served with the carrot atchar. The butter chicken is free range, and a good second choice. If you can't stomach curry for breakfast, get some to go, for later.
Another nice 'main course' is the beef or veggie burgers (R35) from
the Purple Burger
ladies. It's less about the burgers, and more about the hundred and one toppings on offer – salsas, sauces, salads, pickles, baba ganoush – and each creation artistically topped with an edible flower.
The falalels at the (you guessed it)
Ali's
falafel stall
meet with Big Spoon's stringent standards of falafel-approval, and the tuna noodle salad at the fresh fish stall goes down well.
And don't you dare leave without something sweet from
Flannerie Bonaparte
, one of the best patisseries in the city. The brownie mandarin tart – sweetcrust filled with brownie, mandarin pieces and chantilly cream – is my favourite, but the frangipane, fruit and milk tarts are all delicious.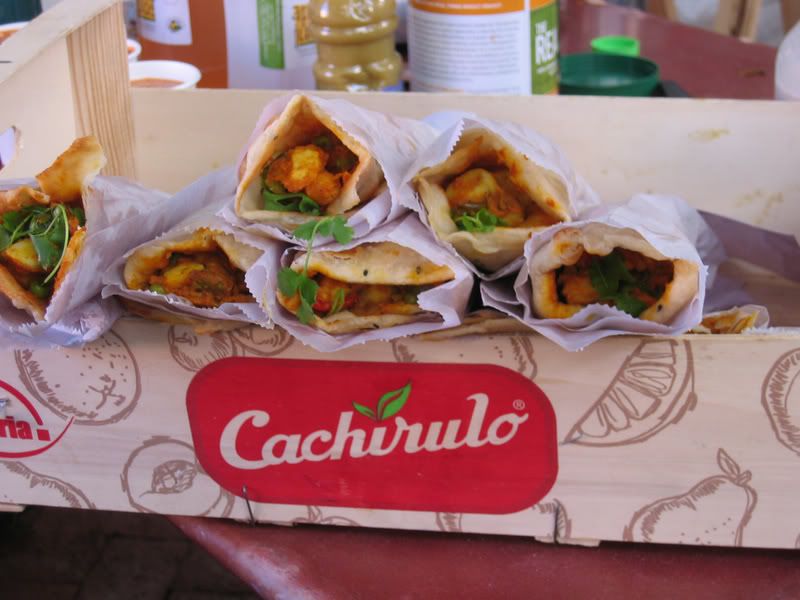 Next post... My Neighbourhood Goods Market SHOPPING ITINERARY.