Hamantaschen, Oy!
As we were clearing away dinner tonight, one of my flatmates, the Persian Princess, was recounting the trials and tribulations of her week. "And," she finished off, "I've been dreaming about poppyseed hamantaschen all day". I was surprised to hear this. "Do Sephardic Jews make hamantaschen?" I asked. "No," she said baldly, "But I sure as heck eat them". This sounded very much like a challenge to me. "We don't have poppyseeds," I said carefully. There was a delicate pause. She cocked one eyebrow. "Want to go buy some?" she said. And so, the race was on. We got in the car, hurtled through the foggy streets of Fox Point, skidded through the sliding doors of Wholefood, and in my quickest shop ever, bought a jar of poppyseeds. And some bananas, and five shitake mushrooms, and three types of gourmet cheese (don't ask). We got out within two minutes of closing time. And then proceeded to spend the next two hours of our evening making poppy seed hamantaschen.
A well executed hamantaschen is a beautiful thing; crumbly, buttery, sweet, and best devoured still oven-warm. Although there is a breadlike-hamantaschen-camp, I take a strong sugar-cookie-hamantaschen-stance. I must admit that a yeasted hamantaschen is probably more authentic; Eastern European Jews are sadly better known for their dumplings and breads than their sugar cookies. But who can say no to a dollop of jam or creamed poppy seeds, enclosed in a moist sugar cookie crust?
Thanks to their addictive yumminess, hamantaschen are available at Jewish bakeries year-round. But for those who try to eat seasonally, hamantaschen come but once a year. Baked goods may not be an obvious candidate for Slow Food's sustainable agriculture movement, but for hamentaschen purists, there you have it.
If Easter eggs encapsulate Easter, then hamantaschen are the universally recognized symbol of Purim. Purim celebrates the events in the biblical Book of Esther, in which all the Jews of Persia were rescued from genocide by Esther, the queen of Persia. Perhaps my own Persian Princess is a descendent of Esther, which would neatly explain her addiction to hamantaschen. But hamantaschen, as I said, are not Persian, but Ashkenazi in both name and origin.
I once read that Jewish holidays could be defined as: "They tried to kill us. We survived. Let's eat!" So it should come as no surprise that Ashkenazi Jews took Purim as an opportunity to tie a delicious food to a religious holiday, which other holidays (Thanksgiving, Christmas, Passover – you name it) have shown is a great way to guarantee the annual reappearance of a tasty thing. "Tasch" (related to the Afrikaans 'tas') means pocket in Yiddish, and Haman is the baddie from the book of Esther. So once a year, Jews wolf down Haman's pockets. Victory never tasted so sweet.
For my hamantaschen dough, I used
this recipe
, substituting melted butter for the vegetable oil. I filled some of the hamantaschen with jam.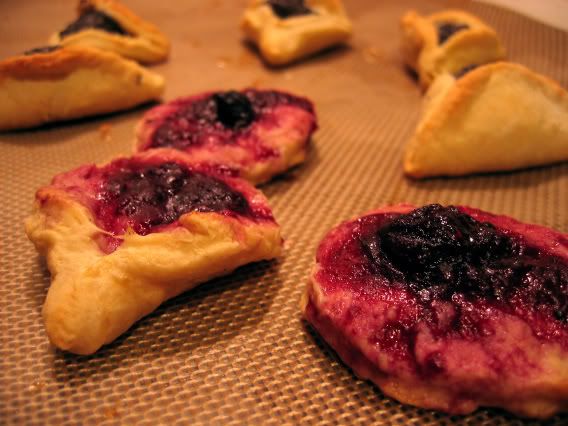 Next time, I will stir in a bit of thickening agent (cornstarch or flour) to keep them from liquefying! For the rest, I made some poppy seed paste with the gorgeous smoky-blue poppy seeds I bought from Wholefoods.

Lightly toast a ¾ cup (45 grams) poppy seeds in a non-stick pan. Keep a careful eye – and nose – on the lookout for burning. Bring ¾ cup whole milk to the boil on the stove. Add one tablespoon butter, three tablespoons sugar, then the poppy seeds to the pan. Stir constantly for 8-10 minutes over medium-low heat, until the mixture has reduced and thickened. Blend with a small handful of bread crumbs in a blender or food processor to form a thick, nutty paste.

The rich, roasty, poppy seed filling is hard to beat. But a gooseberry jam hamantaschen might just have a wildcard chance...
Categories: Recipe