Philadelphia (Part II)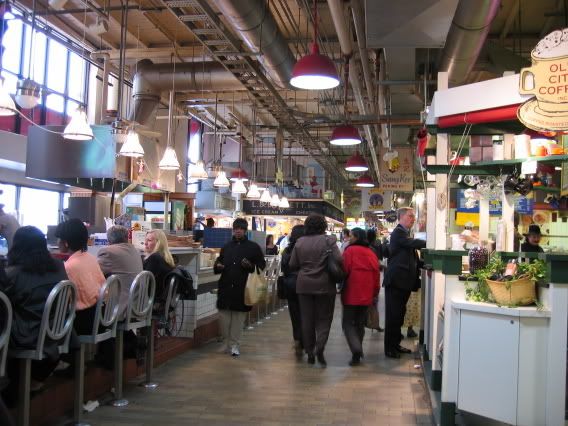 Reading Terminal Market.
It took me three days, but I have finally taught myself to correctly pronounce Reading as "Redding". A lovely, lovely daily market, in a giant, brightly-lit warehouse which is attached to the central train station. I went on Wednesday, when Amish vendors are out in force. The market offers a wonderful mix of fresh produce – vegetables, meats, bread and cheese – and cooked food, so the whole place buzzes with eager shoppers and hungry office-workers.
I was slightly dazed when faced with such a cornucopia, as were my two brave companions, who trailed loyally after me for over an hour and a half. After a thorough browse of each and every store, we managed to consume a restrained amount of nosh, namely:
A chocolate chip cookie
at
the
Famous 4th St Cookie Co
.
Nice use of oats results in a pleasing, toothy/chewy texture. Yummy, but not extraordinarily so.
A Metro Cookie
and
a lemon canelé
at
the Metropolitan Bakery
The canelé, while pleasant, was more cakey than custardy (a contentious issue, I know; I prefer the latter type). The cookie, however, was marvelous: two crisp chocolate cookies sandwiched together with a gooey mascarpone cream. An appointment with a pork sandwich was all that kept me from returning to try the meyer lemon and chocolate éclair. I didn't try their breads, but I definitely wanted to!
A roast pork sandwich
at
DiNic's Roast Beef and Pork
According to the Chowhound board, a roast pork sandwich with sharp provolone and broccoli rabe greens is the (not so) secret cousin of the famous Philly Cheese Steak hoagie. To be honest, I was a bit intimidated by the legend that is the hoagie; I mean, once that powerful symbol is conquered, what reason would I have to return to Philly (aside from Capogiro, Penang and Lakeside Chinese Deli)?? That and, as a Jew, I naturally gravitate towards pork, especially when consumed with dairy. DiNic's was DiLicious (sorry). The combination of sharp cheese, slightly bitter greens and moist pork is particularly genius. The pulled pork looked good, too.
A bowl of
roast duck noodle soup
at
Sang Kee Peking Duck House
I was delighted to see this stall, since I hadn't had time (or gastric capacity) to visit this restaurant in Chinatown. The broth was flavourful, the noodles perfectly, slurpily al dente, and the duck meat was juicy, with plenty fatty, crackly duck skin.
I left feeling very full and somewhat wistful; why oh why don't we have a Reading Market in Cape Town???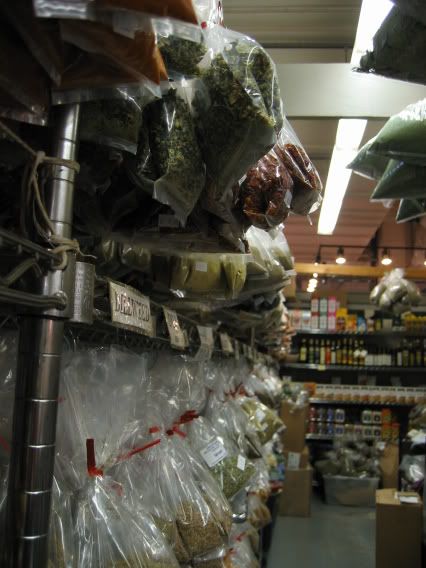 Categories: American