Philadelphia (Part III)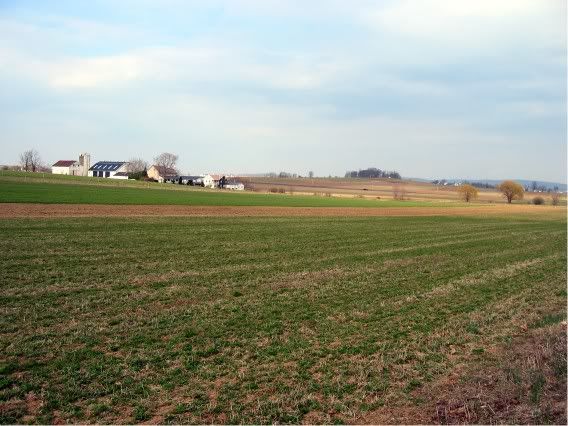 Lancaster County.
No overenthusiastic visitor can drive through Pennsylvania without stopping by to visit the Amish, a Mennonite sect that's famous for following a strict, traditional lifestyle. A little research confirmed what I suspected: it is almost impossible to have an 'authentic' Amish experience, thanks to rampant tourism, and the Amish desire to live apart from the modern world and its inhabitants. So we drove into Lancaster County resigned to our tourist-fate, and looking forward to a day in the countryside.
Every gas station, shop and shed along Route 340 has hung a shingle advertising Amish or Dutch this-or-that. We stopped off at the town of Bird-in-Hand and, although the market was closed, admired the quilts in the quilt shop, and sampled some free nibbles of wet-bottom Shoofly Pie at the
bakery
.
We spent most of the day driving around, trying - and failing- to appear nonchalant at the sight of yet another horse-and-buggy on the roadside. I did not find the landscape beautiful, but its desolate, windy fields, punctuated by sturdy wooden barns and clapboard houses, were striking. The prevalence of motorcars, farm machinery and modern conveniences sometimes made it hard to see where the modern world ended and the alternate, Amish universe began. Often the only sign was a clothesline of black, somber purple and blue overalls and long dresses beating in the wind. It must be a strange life for them, especially those who run and work in stores which depend on tourists buying quilts and pies and rocking chairs. The handful of Amish people I met in grocery stores, markets and shops were all polite but distant, and I can't blame them. Given the Amish aversion to photography, I couldn't bring myself to whip out the camera, tempted though I was.
The one experience we had 'off the beaten track' was when we spontaneously followed a sign advertising root beer, pointing to a farm a little way off rt. 340, between Bird-in-Hand and Intercourse (yes, that really
is
the name of a town). A rough, wooden covered tuckshop, not much more than some shelves and a counter, stood next to the dirt road, a couple yards from a cluster of barns and farmhouses. A sign said "Please Hoot for Service", but as we arrived, a woman bustled out of a house, several dark glass bottles cradled in her apron. She sold us three bottles of homemade rootbeer, while her small son stared at us, eyes barely showing over the counter. Sadly we were too late to buy Shoofly Pie, but I bought a little whoopie pie for fifty cents. It was sweet and fresh, two chocolate, cakelike cookies with a snowy whipped filling - not at all like the mass-produced ones I've seen in stores. The rootbeer was yeasty, with a herby, slightly medicinal tang. If I return to Lancaster, I think I'll follow more of those signs. But not, of course, on a Sunday!
Categories: American