Chicken Piccata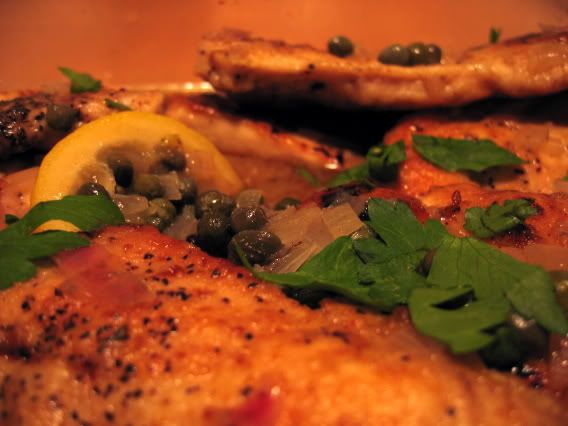 I've mentioned three of my flatmates to you so far:
the Persian Princess
,
Mrs Malva
, and
Wendy Bird
. The fourth, McFix-It, should have been introduced first, since I met her during my first week in America, shared a room with her for a year, and a flat with her since August. McFix-It is the Responsible one in the House; she actually owns a toolkit, feels comfortable in Home Depot, and organizes our housekeeping accounts. She's a willing eater, kitchen sweeper, and doesn't stop me (or the Persian Princess) from blowing our weekly food 'budget' (ha) on imported cheeses: all-in-all, she's a pleasure to cook for and eat with.
She majors in chemistry, and treats the kitchen as an extended lab, where recipes are to be closely followed At All Times. As a result, she is a firm fan of
America's Test Kitchen
(ATK) Cookbook, known for its exhaustive testing of popular recipes and cooking equipment. They'll buy every major blender on the market, put them through rigorous testing, and then try and break them on purpose (rocks in a blender, anyone?) until they can finally declare which is the Ultimate Blender. Same goes for recipes: roast chicken, chocolate chip cookies, etc. I've skimmed their authoritative tome, felt happy that their tart crust findings were similar with my own, and then I happily returned to my latest arcane cookery book, which describes in tiny detail how to salt, gut and behead fresh sardines, among other fascinating things.
ATK is more reliable than most cookery books, but not infallible, as McFix-It discovers, crest-fallen, from time to time. But one dish which we all adore is their Chicken Piccata, which consists of tender, sautéed chicken cutlets in a light, glossy and intensely lemony sauce. Cheap to assemble (no imported French cheeses), easy to make: an all-round week-night winner.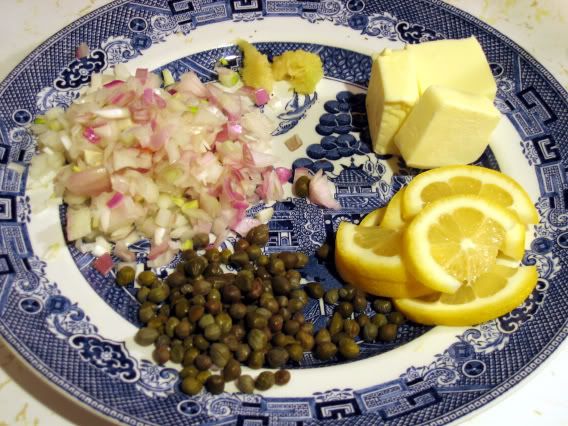 McFix-It's ATK's Chicken Piccata

For four people, take:
4 chicken breasts

If there's a flap of meat attached to the underside, remove with a knife. You can fry this separately. Then carefully cut the chicken breast in half horizontally to yield two, thin cutlets. Pat dry with paper towels, and season with salt and pepper. Dredge in flour (you'll need approx. ½ cup for eight cutlets).
Heat 2 TBS oil in a skillet over med-high heat until starts smoking. Add half the cutlets and cook until light golden brown on both sides, about 4 min. Transfer to plate, and keep warm in an oven preheated to 200F. Repeat with the four remaining cutlets.
Take :
1 shallot, finely minced
1 clove of garlic, finely minced
Add them to the pan, and cook over medium-high height until they are softened but not browning, approx 2 minutes.
Add:
1 cup chicken stock
½ large lemon, cut into thin half-moons

Stir to loosen any yummy brown bits stuck to the pan. Simmer this mixture until it has reduced and become slightly syrupy, approx. 8 minutes.
Add:
¼ cup lemon juice (from approx 1-2 lemons)
2 TBS rinsed capers

Any juice that's accumulated from the sautéed cutlets, sitting in the oven.
Turn the heat down low, and whisk in, a little at a time:
3TBS chilled butter

Add:
2 TBS minced fresh parsley
Spoon over the chicken cutlets before serving.
Verifying visual data with a biothermic analysis, followed by a brief gustatory cross-check...
Categories: Recipe, Piccata, Chicken