Waterblommetjie Soup
Following
my delicious, local spring meal
two weeks ago, a nice punnet of waterblommetjies at the supermarket inspired me to reinvent the first course of that lovely meal: waterblommetjie soup.
Waterblommetjies are the flowers of the Cape Hawthorn (Aponogeton distachyos), which grows wild in vleis (marshes) and on riverbanks.
It is the only indigenous Cape food which is widely available for sale (I'm not counting rooibos, which in my mind is not a 'food'). During the winter and early spring, it's usually not too difficult to find waterblommetjies for sale at greengrocers and supermarkets. The name, which translates from the Afrikaans as 'little water flower' is a bit misleading, since it is best to buy the closed flower buds, as the white flowers themselves are very fragile, and bruised beyond use by the time you get them home. The green buds are much more robust, and beautifully tipped with white or pink, which turn to a less appetising khaki green once cooked. They are traditionally prepared in a bredie, a local meat stew, but I prefer the simpler and cleaner flavours of a vegetable soup.
I wish I could tell you that waterblommetjies are the most delicious vegetable ever. However, they taste to me like any green, firm vegetable (think: green beans). Nonetheless, it's a nutritious addition to any meal, and a lovely, local way to celebrate the coming spring.
WATERBLOMMETJIE SOUP
Feeds 4 as a starter, or 3 as a main course
500g waterblommetjies
2 leeks, finely sliced
2 carrots, finely sliced
1 potato, peeled and diced
1 large garlic clove, minced
1 stick celery, finely sliced
Celery leaves, chopped
3 cups chicken stock
1 smoked ham bone (optional)
Before you begin, rinse the waterblommetjies, and soak in a bowl or sinkful of cold water for ten minutes or so, with a generous pinch of salt. Stir them with your hand occasionally. This is to dislodge any hiding bugs or soil, although sometimes they have neither. Then drain the waterblommetjies, and chop them roughly into quarters or halves, through the denser base of each bud.
In a pot, sauté the leek, celery and carrot in a little olive oil, until soft. Add the garlic and potato. Deglaze with a little white wine if you're feeling fancy, otherwise just add the chicken stock with a good pinch of salt and sugar. Bring to the boil, add the waterblommetjies. Partially cover, and lower to simmer. Cook until the waterblommetjies are soft but not mushy. Remove the smoked ham bone if using, shred any meat clinging to the bone, and put to one side. I like to put my braun emersion blender stick into the soup pot, and pulse two or three times, just to make the soup a little creamier in texture.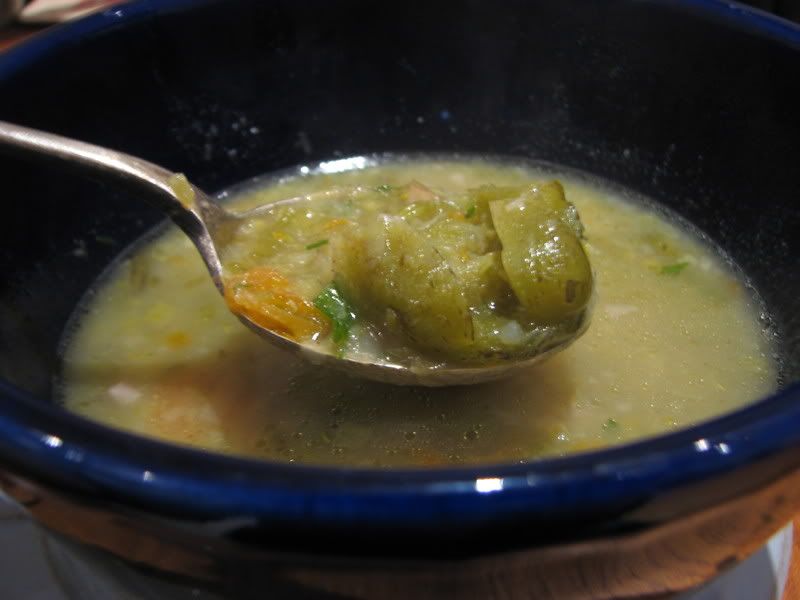 Adjust the seasoning, add the celery leaves and smoked ham meat, and serve.