Hillcrest Berry Farm
If you want to celebrate gooseberries in the Western Cape, the best place to go is
Hillcrest Berry Farm
. This is actually one of my most favourite restaurants, situated on a working berry farm, between the town of Stellenbosch and the village of Pniel on the Hellshoogte Pass.
So many people come to the Cape Winelands, but only dine at the 'Greats', such as
Reuben's
and
Le Quartier Français
. Well, that's all good and proper, for those who can drop R690 ($115/₤65) on the
gourmand tasting menu
at the latter, and actually get a booking at the former. For the rest of us, the creativity, peacefulness and value of Hillcrest Berry Farm continues to
delight.
Drive up a little winding road, park and walk into Hillcrest's lovely farm store, where after your meal you should be sure to pick up some of their famous jams, a berry vinaigrette, frozen or fresh produce, or something similarly berry-themed. But first head right to the back, where a friendly lady will greet you in both English and Afrikaans.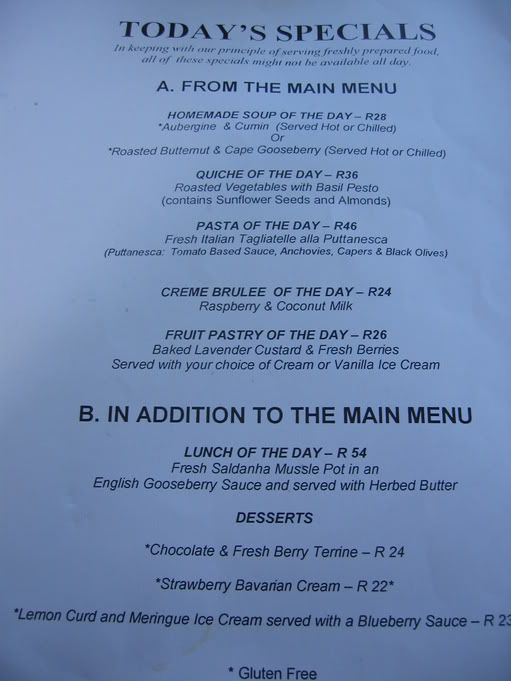 You can sit indoors, or if the weather's pleasant, on the terrace, surrounded by roses, where you can look out over the Stellenbosch valley. Another equally friendly lady will give you their menu, and their menu of the day. Now this is the hardest part: what to eat? A croissant
brimming chicken and a gooseberry cream cheese salsa? Perhaps a cheese and berry soufflé, or springbok carpaccio with a berry dressing? Maybe a berry smoothie or juice on the side? And how about a fresh berry tart, or one of their homemade berry ice creams to finish? Whatever you choose, a gently warmed scone with your selection of jams (get the four berry jam! Or the fig and walnut jam! Or the marmalade! Or…) is compulsory fare in my mind. Most dishes are accompanied with a salad strewn with berries, just in case you missed the theme.
It's always my first choice for Last Lunch, before jetting back to the States, and Big Spoon, my boyfriend, was happy to oblige last week, when we enjoyed a slow, ninety-minute lunch. This is the stuff of which dreams are made.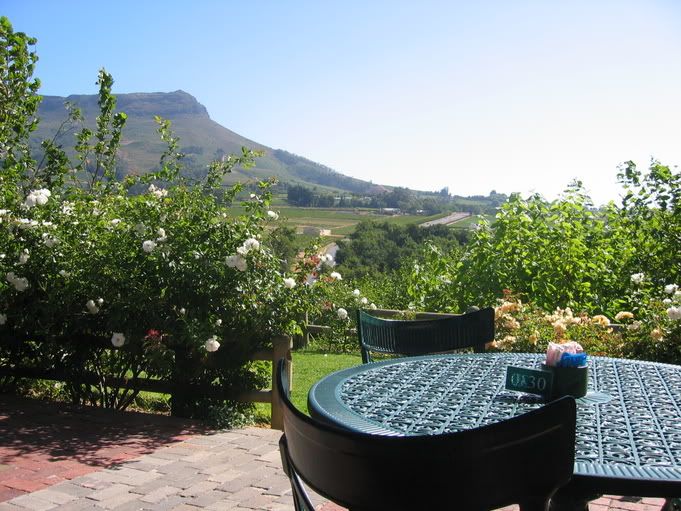 Although tourists do pop by, most customers are local families who have popped up from Stellenbosch, or stopped by on a Sunday drive. Children scamper around, and grandparents reminisce over the teapot covers. And at the end of the meal, after drinks, main courses and dessert, you discover that heaven is attainable for as little as R70 ($12/₤6) a head, including tip.
Categories: Cape_Restaurants, Winelands