Le Quartier Francais: the Tasting Room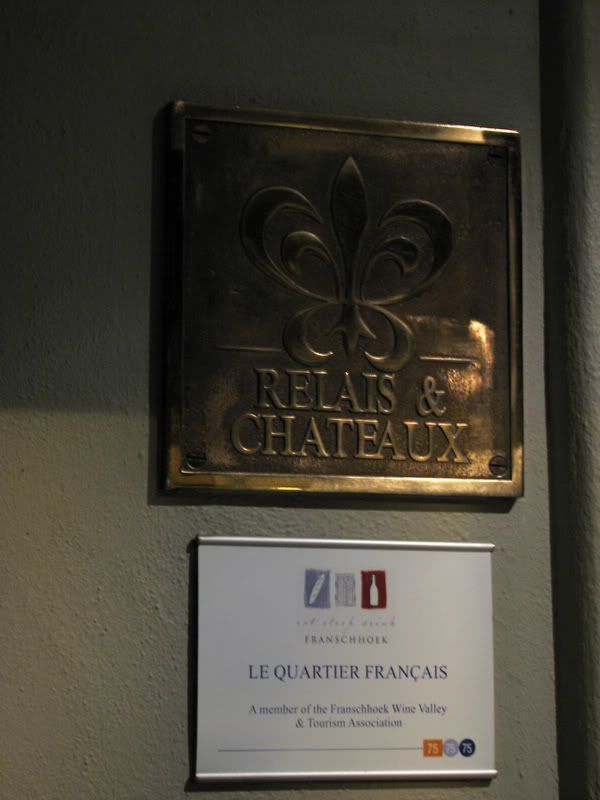 Last month, I was fortunate enough to be taken to
Le Quartier Francais
' Tasting Room. Now, anyone who follows international restaurant surveys will be familiar with this name, as it is one of the few South African restaurants which consistently places in various top international restaurant lists. Now, I've gone to Le Quartier for lunch at IcI, their more moderately priced cafe-restaurant, and am a loyal, long-time fan of their lamb-burger. But the Tasting Room is, by South African standards, expensive, and as with all tasting menus, a bit of an event. So it was with excitement that I joined some family friends for an evening at SA's Number One Restaurant.
You have a choice of an eight course set tasting menu with or without accompanying wines, or a four to six course tasting menu, chosen from a larger, selective tasting menu. The selective menu was split into five courses – starters, fish course, meat course, cheese course, and dessert, but you could choose to have one starter and five desserts, or two fish courses, one cheese and three meat courses, or however you wished to combine six courses. Two members of our dining party went for the wine paired menus, and the rest of us chose six courses from the selective menu. My selection ran as follows:
· Salt cured foie gras 'au torchon', spiced fruit salad, banana fritter
· Organic pork terrine, cauliflower & hanepoot panna cotta, pickled veg, cabbage puree
· Roasted queen scallops, roe parfait, parsnip foam, spinach
· Braised smoked pork belly, date pomme puree, chorizo and periwinkle barigoule
· Tomato sabayon, parmesan sorbet, von treche, basil
(pictured below)
· Chocolate and praline fondant, almond and lavender milk, horlicks
As you can see, it was not the most balanced meal, because I sought out the most unusual dishes, and ones that I thought would be a challenge to the kitchen.
The meal was a long affair: we arrived at seven o'clock, and left past eleven. The food was delicious, and for the most part, well balanced regarding flavour and textures, and the service was probably the best I have had in this country – friendly, knowledgeable, but discrete. Aside from the somewhat florid repertoire of the pianist (since when is the Titanic theme song a welcome addition to a tasteful meal?), I had a lovely, lovely evening. But I still find myself wondering; how much did I actually enjoy the experience?
Knowing I was going to such a respected restaurant and knowing I was going to be eating very fancy food actually made me slightly nervous. Every dish was brought out with ceremony, plated more like artwork than food, and some with names I have never even heard of (barigoule? Au torchon?). And in response, I felt that each dish required more than the ordinary delighted response, more oohing and aahing, a longer pause to admire the artful structure of the plate. So many new flavour combinations – banana fritters with foie gras, hanepoot and cauliflower, chorizo and periwinkle – I do not consider myself unadventurous, but after the third or so course, the flavours began to lose their excitement and sparkle. Being suspended in a state of awe for four hours... was actually quite exhausting.
And finally, even though I was lucky enough to be there as someone else's guest, the prices for this sort of experience give pause for thought:
4 course selective menu R310
6 course selective menu R390
Set menu excluding wine R500
Set menu with wine R760
Can you place a monetary value on gustatory pleasure? Assuming you can, was my experience at the Tasting Room worth R390? Or to look at it comparatively, was it eight times more delicious than the R55 lamb-burger? I know I am playing devil's advocate, but the fact remains: for the same amount of money, I could have several meals which collectively, if not individually, I would certainly enjoy more. I'm glad I have tried the Le Quartier Francais tasting menu, because every eating experience contributes to a wider understanding and appreciation of food. However, it is an experience that, once had, I do not feel a particular compulsion to repeat.