Brinjal, Eggplant, Aubergine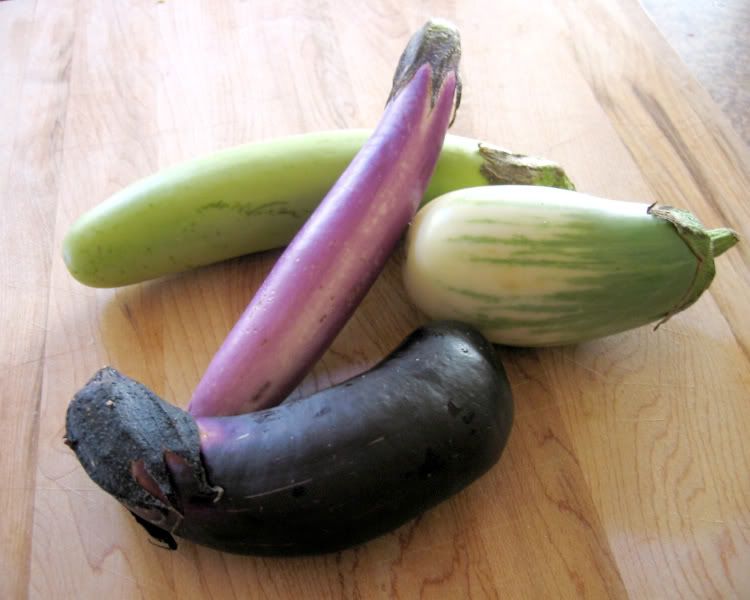 The French and the Brits call it
aubergine
, and the Americans use the somewhat comical - but self-explanatory -
eggplant
. In South Africa, it is
brinjal
, an Asian word no doubt brought over by Malay slaves several centuries ago or Indian railway workers more recently in our colonial history. Whatever you call this funny vegetable, most people love it or hate it. As a child, I was convinced that the detested snozzcumbers from Roald Dahl's The BFG were really in fact brinjals. But recently I have had several positive brinjal experiences, which has forced me to reconsider my position, and raid my farmers' market for the beautiful varieties you see above. Clockwise from right: Thai green eggplant, Japanese eggplant, Chinese eggplant, green goddess eggplant.
Like sponges, brinjals will absorb everything they come into contact with, which is good if they're absorbing the smoke of a braai, and bad if they're sitting in oil. But they definitely do have their own, mild flavour, and caramelize delightfully given the right treatment.
Roasting them gives you versatile results, which can be tossed with pasta, put on a pizza, or eaten as a vegetable side dish.
Roasted Brinjals
Take as many brinjals as you wish to eat. Trim either end and, using a vegetable peeler, remove three or four strips of the peel lengthways, creating a striped effect. This helps hold the brinjal together while cooking, while assuring you won't end up struggling to eat massive pieces of skin. Slice the brinjal into coins, 1 1/2-2 cm (3/4"-1") thick. Place in a baking dish or tin, and toss them with some olive oil, just enough to coat them, and sprinkle generously with salt. Place in an oven preheated to 500F/260C.
After ten minutes, stir them, add a splash or water or stock, and lower the heat to 400F/200C. Stir from time to time. If they absorb all the water, and still don't seem cooked, add some more water, and cover with tin foil for fifteen more minutes. Remember to take this off ten minutes before finishing, to evaporate any remaining liquid.
The brinjals are cooked when they are browned, slightly deflated, and are soft but not disintegrated, anything from twenty to forty minutes total cooking time, depending on the variety and size of your brinjals.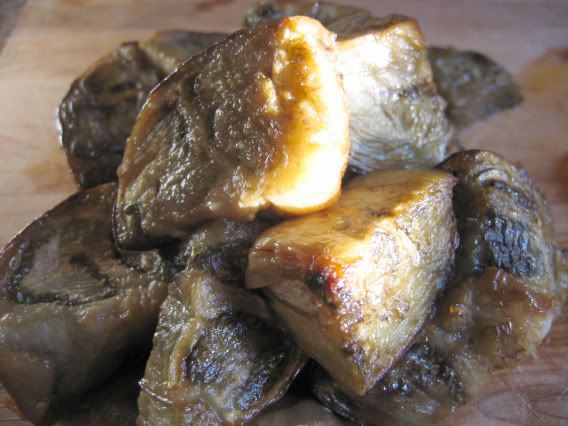 Categories: Eggplant, brinjal, aubergine