London: Chinese Food and Dim Sum
My Top Three London Culinary Experiences continues with... Chinese Food and Dim Sum.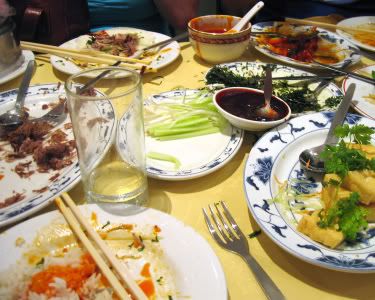 In all the places in the world that I have eaten Chinese food, the London standards of my childhood remain my yardstick. Typically Szechwan in influence, British Chinese food is less greasy, quite spicy and (yet again, according to my standards) extremely delicious. Some stellar dishes which I have rarely seen elsewhere, but my top three, all common in London, are:
Crispy fried seaweed.
Not actually seaweed, this is normally spinach leaves, finely minced then deep-fried, liberally sprinkled with dried fish powder, sugar and salt. And no doubt MSG. It's crunchy, sweet, salty and tangy all at the same time, and no Chinese meal in London is complete without it as an opening nibble.
Aromatic crispy duck.
OK, I see this all over the place, but for some reason the Brits (or rather, the British Chinese) do it as it should be done. The meat is succulent but not greasy, the skin is crisp but not oily, and the pancakes to wrap it all in are always warm and tender. Enough said.
Pan-seared noodles.
American restaurants take this description as an opportunity to deep-fry a whole bowlful of noodles, and usually burn the edges to a brittle, dark brown. But when perfectly executed, the middle of the pile of noodles is a soft, moist tangle, and the edges are only just starting to tan, crisp but still recognizably noodle, rather than charcoal. Chicken strips, the typical topping, should be almost pink, and so heart-breakingly tender as to melt in your mouth. Or preferably, my mouth.
And when it comes to dim sum, I invariably go to:

The New World Chinese Restaurant
Chinatown's largest dim sum establishment, the New World has a traditional set-up, with a never-ending flow of dim sum wheeled past your table on waitress-run trolleys. Point to what you would like, and it gets added to your tab. Don't expect an indepth discussion on the merits of various dumplings; English skills vary from fluent to nonexistent. On my last visit, a lovely and well-meaning lady tried to get me to take a plate of chicken feet, all the while repeating "Asparagus! Asparagus!" over and over. So unless you are fluent in Chinese, be brave, shut up, and try everything. Personal favourites include their mushroom and chicken baked buns, and their wonton soup, which is assembled table-side by an efficient lady pushing a soup-trolley that looked like the bulkhead of a steel ship.

New World Chinese Restaurant
1 Gerrard Place
London, W1D 5PA
Dim sum trolleys: 11am-5pm daily; dim sum appetizers a la carte with supper.
Tube stop: Leicester Square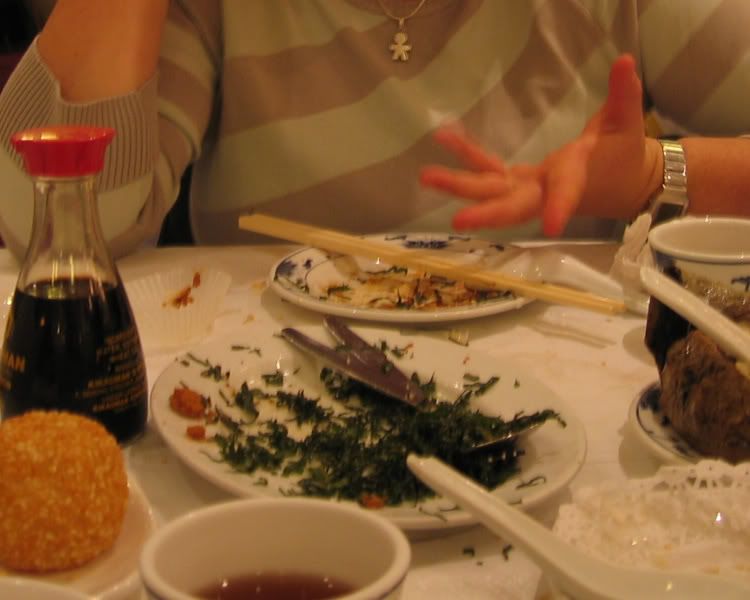 Categories: London, restaurant, dim_sum