Fresh Chickpeas
It's totally ridiculous: here I am, the mecca of American agriculture, and only one post about the food in almost a month. I've been so embarrassed by my atypical silence that I have even been avoiding other people's food blogs: the sight of so much creativity, abundance and deliciousness shames me. Well, I
have
been out and about, at Monterey Market and the Berkeley farmers' markets, and I
have
been eating well – just not in any way that might be considered fascinating to other people. After a long day at work, and with the summery weather, all I have the energy and desire to rustle up is: fruit, fruit, fruit, and maybe a little something on toast. Oh, and I'm quasi-afraid of my new, beautiful camera, too.
But I have overcome my fears/apathy/blahness, and present to you: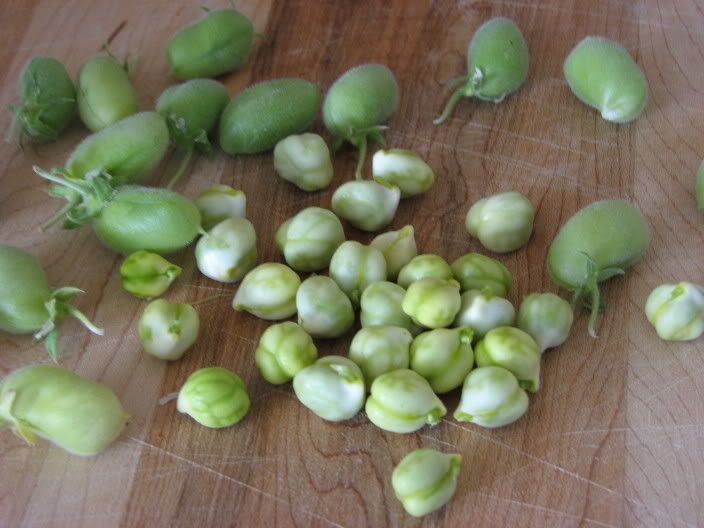 Chickpeas. Baby steps.
I found these beauties at the Thursday market, and was entranced by their cheery bubble-pods, and the cool, green, brainy marbles inside. I've never eaten fresh chickpeas before, and they tasted slightly crisp (like raw peas), green, and oh-so-slightly nutty. Although I nibbled on them raw, I did simmer them for five minutes in salted water before eating, to make them slightly more digestible.
Simple, South-West Chickpea Hash
This can hardly be called a recipe; it's more of an improvisation. The South-West part was dictated by my ingredients - tomatoes, onions, corn - rather than a desire to go all retro on you. You will need:
- Fresh, podded chickpeas, or other legume (fresh beans are nice, too)
- One ear of corn, lightly boiled/microwaved/steamed, then shucked
- Chopped red onion
- Minced garlic
- Chopped tomatoes
- A mild but tangy cheese, chopped (I have a delightful young asiago from the Cheese Board)
- Avocado, sliced at the last minute
- Torn leaves of basil
Simmer the chickpeas (or beans) until al dente. Saute the garlic in some olive oil until softened. Add the onion, and cook until the edges soften, but the flavour is still quite fresh and sharp. Add the corn and chickpeas, give the pan a good shake, then add the tomatoes and some salt and pepper. When the tomatoes are melting into the other ingredients, add the cheese, stir to initiate gooey, stringy cheesiness, then pour the hash into a bowl. Top with basil and avocado, and eat with a spoon.
I often eat variations on this theme, with eggs, other herbs, mushrooms, or baby potatoes. Summer in a bowl.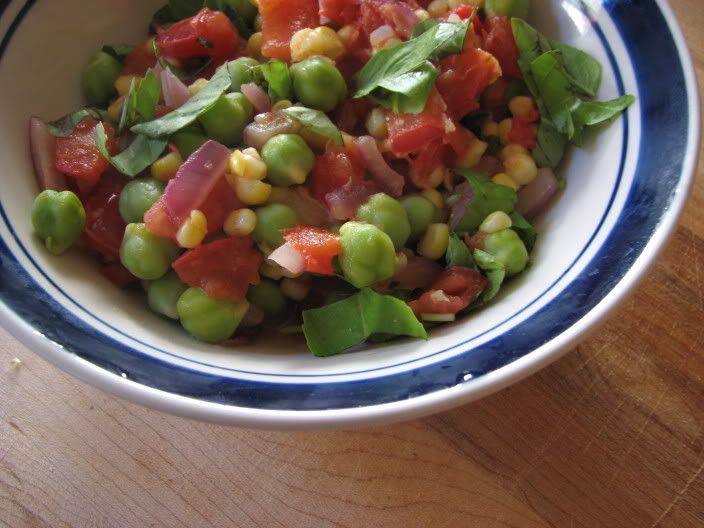 Categories: Chickpeas