Neighbourhood Goods Market - Part II

My SHOPPING Itinerary

Once breakfast is taken care of, it's time to indulge in a little recreational artisanal shopping. You know - buy a couple of misshapen fruit and feel like you're at one with the earth, the agricultural process and global warming protesters.

FOR LUNCH
Mushroom Gourmet
offers a range of locally grown and imported mushroom delights – the widest selection I have seen available to members of the public. Rare and pricey morels, truffles and chanterelles come and go with the seasons, but my favourites are the pungent, delicate maitake (scrambled egg heaven!) and local, pine needle-studded porcini. Run by a helpful and friendly couple, dried and preserved mushrooms, mushroom bread and other interesting things are also available.
Ondersteun Handelaars

The 'serious' greengrocers, Ondersteun is run by experienced and capable Wilhelmina (and son). She stocks an exotic array of Durban spices (fresh turmeric and sugar cane come to mind), daily veg and harder-to-find luxuries (fresh shell beans, baby avos, celeriac) at reasonable prices.

Joostenberg
It's best to visit the delightful
Joostenberg/
farm shop, bistro and deli, by the Klipheuwel-Stellenbosch off-ramp on the N1, but this stall is handy for those busy weekends when you can't get out of the city. Their breakfast bacon (judiciously but not excessively marbled slices of porky heaven) is a freezer staple in our house.
Farm Food
Aside from their delicious egg and bacon rolls, these lovely people from up the West Coast sell boerewors, whole rabbits, terrines, fresh cream and milk (pasteurized and unpasteurized). Their pancetta is superbly smoky, succulent and makes a killer carbonara.
Bread and Wine Meats

I can't say enough good things about the shop, deli and restaurant on
Moreson Wine Estate
. Their olive oil, smoked products and meat, marvellous meat, are worth the drive out to Franschhoek any weekend. Especially for the chance to run into Neil Jewell, chef and charcutier extraordinaire, responsible for the best charcuterie – bar none – in this country. Life loses its meaning without his Spanish pork loin in the fridge, and his demi-sec saucisson is just as memorable. Ignore this stall at your peril.
The Trailer Bread People

OK, I know, this isn't their real name, but this no-name trailer filled with bread is one of the most popular sellers at the market. If you're into rye, there are several options, but I like a nice loaf of their potato bread – all mellow, chewy and noshable. But I must admit – I tend to buy my ciabatta here from the Olive Station stall, which gets its bread from Cape Town's celebrated Olympia Cafe and Bakery. Old habits die hard.
Constantia Cheesery
Run from a small-holding in the farm-suburb of Constantia, this cheesery makes a lovely farm gouda among others (although, true to artisan form, each cheese is a little different in flavour and texture– I ask for a taste every week before buying). They also stock Cremalat's gorgonzola, whose unctuous, mild blueness will convert even the staunchest anti-mould individual.
Other stalls worthy of mention include Pesto Princess, the Curry Stall (mentioned previously) for takeouts, and the olive lady.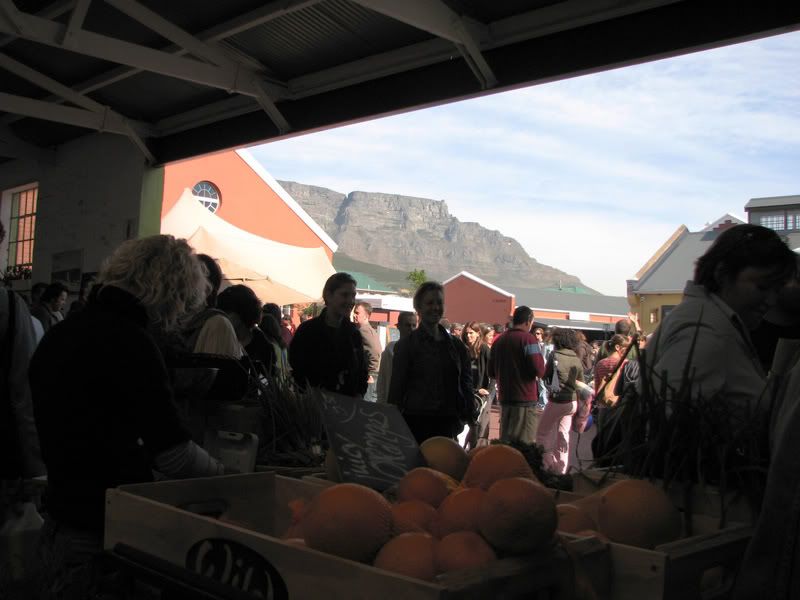 FOR GIFTS
Chocolats Marionnettes
carry a range of interesting chocolate bars, made locally from imported Belgian chocolate. Try dark chocolate with lime, Karoo Mint, Chilli or Rose, white chocolate with gold flakes (aptly named 'egoli') or an adorable milk chocolate mouse. My mother's favourite is Cape Malay Spice (although personally I think it tastes the same as the cardamom chocolate).
Frenzy Condiments
My mother likes nothing better than a bottle of Frenzy Asian salad dressing. I think she secretly drinks the stuff.
Flannerie Bonaparte
Mentioned previously here,
these people
know a thing or two about European patisserie. Something sweet from Bonaparte will always be a welcome gift.
Okasie Florist

OK, while not strictly edible, there's nothing like a bunch of funky flowers to accompany a foodie gift. And these people have some of the prettiest, vivacious flowers I've seen on sale.