Haagen-Dazs is Here!
Food-related things I miss from America:
Scallops
Clams
Maple syrup
Annie's Instant Mac and Cheese
Widely available Vietnamese food
Auntie Annie's cinnamon sugar pretzels
Fresh sour cherries
Penzey's Spices
Cookware deals on Ebay
Heirloom tomatoes and other vegetables
the plethora of farmers markets
Prawns sold by weight at supermarket seafood counters
Ben & Jerry's
Haagen-Dazs
Yes, it's happened. Haagen-Dazs has headed south.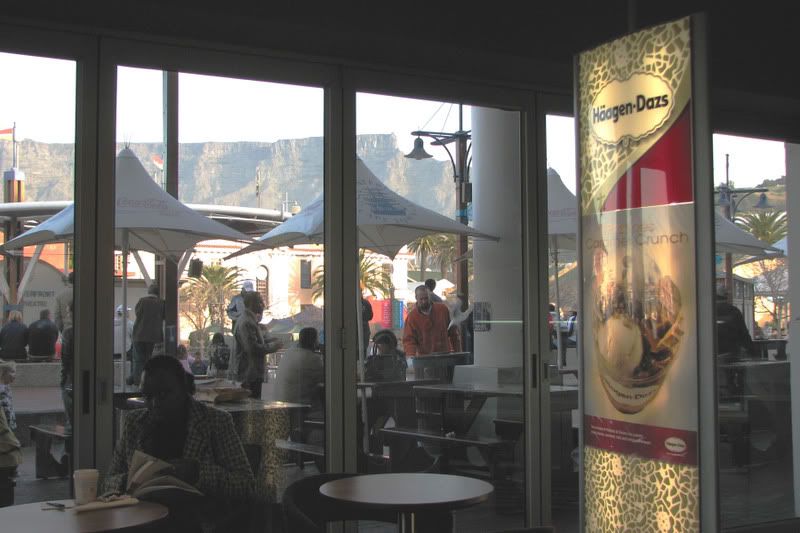 We Capetonians now have our very own Haagen-Dazs, an American ice cream shop which has, as American icons inevitably do, invaded the rest of the world. Lucky us!!!
I have had a long-standing relationship with HD, established during my four-year stint in the States. I must admit, I consider myself more of a Ben 'n Jerry's kinda gal, but I'll take whatever sugar-soaked globalist blessings come my way. Big Spoon, however, is all Haagen-Dazs heart, ever since I first introduced him to its pleasures three years ago, on our first holiday as a couple (in Thailand of all places). Since then, on all international trips together we have visited local branches of Haagen-Dazs as far afield as New York, London, Koh Samui and Amsterdam, primarily at his insistence. Although honesty compels me to admit that I never needed much convincing! In the same vein, I was delighted to be dragged three times to Haagen-Dazs in the past week, smug that, for once, the tables had been turned – I was tagging along on Big Spoon's food mission, instead of the other way around. Although I was quite embarrassed when he actually sprinted across V&A Waterfront foodhall, erroneously thinking that Haagen-Dazs was on the cusp of closing for the evening.
As with all international imports, this ice cream doesn't come cheap: R20.00 for one scoop, and a slightly more affordable R35 for two, and all the way up to a dizzying R60 for a full sauce-and-sprinkle-laden sundae. You can eat your frozen treat there, in the maroon-chair'd and faux-wood interior, or take it to go in tubs. Sales assistants are friendly, patient and knowledgeable.
The ice cream comes in many flavours (the flavour chart, proudly displayed by Big Spoon on our fridge, lists a range from tiramisu through coconut macaroon), and all display that particularly American, particularly gratifying, fudgy chewiness. Our favourites are dulche de leche and strawberry cheesecake.
Haagen-Dazs
Victoria Wharf Foodhall
V&A Watefront