Cape Malay Pickled Fish
Judeo-Christian-Islamic holidays often come in pairs. They don't all keep the same days every year (or indeed the same years!) but one pair that often stays in sync is Passover-Easter. Now, I don't celebrate Easter, but I can never resist the opportunity to enjoy celebratory foods! So this Sunday I made pickled fish.
You might assume this is a Jewish dish, given the Ashkenazi fondness for pickled herring, gefilte fish and smoked salmon, but I am proud to say I made Easter food, and a Cape classic at that.
I wrote in my last post on spices that Malay slaves were brought from the east (mainly Indonesia) to work at the Cape during the seventeenth and eighteenth centuries. They introduced the colony to Islamic faith and eastern foods. Both still flourish in Cape Town to this day, but following to the segregation and racial classification of the Apartheid era, the Islamic community is closely connected to the Christian descendents of multiracial – black, white, Khoi and Malay – ancestry. They collectively form their own racial group – coloured. This is a controversial term, assigned by Apartheid and considered insulting in other countries. But my friends who belong to this community proudly identify with the term, so who am I to question their identity? While
Cape Malay
implies Islamic ancestry, it is used somewhat interchangeably with
coloured
in describing a people, a culture and a delicious cuisine. It combines local ingredients with eastern flavours – tender stews, spicy-sweet desserts, tangy pickles and mouth-watering chutneys. And pickled fish. Which is not, despite its name, pickled! It is eaten year-round, but is traditionally consumed on Easter, sandwiched in a hot cross bun. While Cape fish are ideal - oily snoek, meaty kingklip, flavourful yellowtail (God, I wish I were home!) - any firm white fish can be substituted. This recipe came from Big Spoon's mother, a delicious cook.
CAPE MALAY PICKLED FISH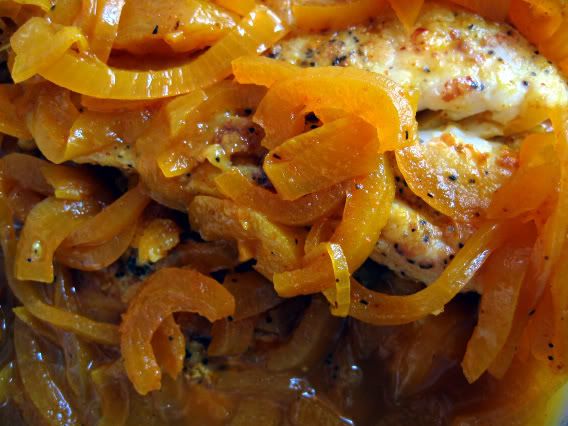 For the fish:
1kg/2 generous pounds of firm white fish, filleted, skinned and sliced into manageable pieces
Wash the fish fillets and pat dry. Season with salt and pepper, then dredge in flour. Heat some oil in a pan, and fry, approximately 6 minutes per side, until brown. Set aside.
For the sauce:
6 medium onions, peeled and sliced
375ml/12.5oz. white vinegar
1 cup sugar
10 black peppercorns
1 TBS mild curry powder
1 TBS turmeric
3 bay leaves
1 cup water
Roast turmeric and curry powder in a hot pan for ten seconds, being careful not to burn the spices. Add the vinegar, sugar and other spices, and bring to the boil., Add the onions and water, and cook for about half an hour. Check flavour and consistency; you want a good sweet-sour, light curry sauce. Add more sugar if needed.
Ladle some of the oniony sauce into a rectangular dish. Arrange fish on top. Cover with the rest of the sauce. Allow this to stand in the fridge for a day or two before serving.
I couldn't bring myself to eat this on a hot cross bun, although Big Spoon assures me it's delicious. I ate some for lunch today, on matzo*, in a satisfyingly multi-faith meal. The dish is wonderfully tangy, almost sweet-sour from the blend of caramelized sugar and tingly vinegar, intermingled with toasted spices and jammy onions. It has a fruity, rich taste that makes me think of juicy apricots eaten in Cape summers past.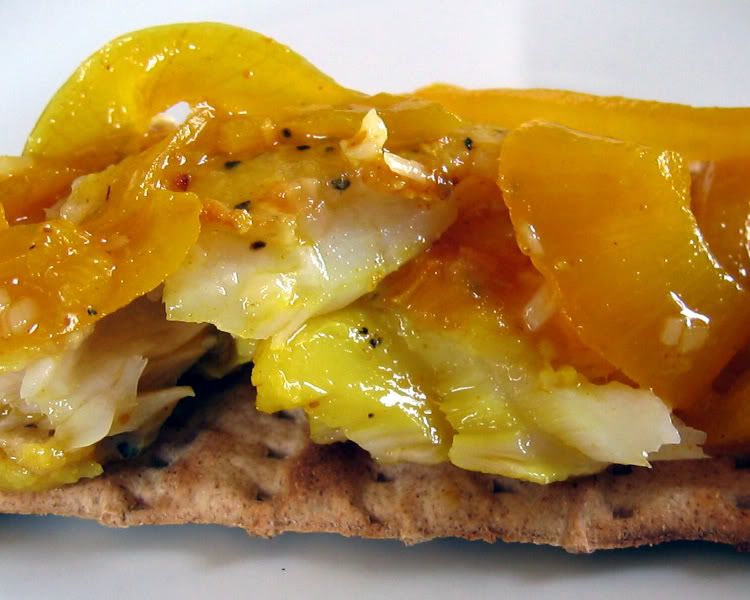 *The fish can be dredged in potato starch instead of flour for those avoiding flour during Passover.
Categories: Cape, Recipes