The West Coast
Looking back at Table Mountain, on the way to the West Coast...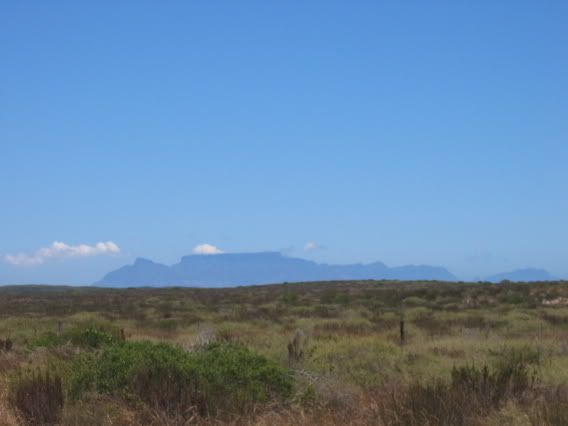 I went with Big Spoon's family to
Die Strandloper
the summer before last. A well-known restaurant a couple hours' drive up the West Coast, Die Strandloper is a hedonistic celebration of seafood. You book in advance, and set aside at least four hours for lunch. The tables are all outdoors, overlooking the sea, and most of the food is prepared over open fires in front of you. It's course after course of fish and shellfish; some little fillets of this, a stew of that, and so on and so forth, according to what's available from the local fishermen. And in case you get peckish, there's homemade bread and butter to nibble on in between. Now, I had a whale of a time, but Big Spoon insisted there was better seafood to be had. So this past summer, he drove me to Paternoster.
Paternoster is a small seaside town also on the West Coast, which you can see showcased in a South African movie called
Forgiveness
, which did rather well at international film festivals earlier this year. We ate at Voorstrandt, a casual restaurant right overlooking the beach. The menu was in Afrikaans, not my strongest language (though it should be after nine years of learning it at school), but with Big Spoon's help I translated the entire thing. We didn't dillydally with any turf, but headed straight to the surf: the visbord (fish platter) of three different fish, prawns in the shell, and a small portion of fried calamari strips. The fish was a bit ordinary (much to Spoon's disappointment, as he had eaten a kabeljou of transcendental deliciousness on his previous visit), but the prawns were fresh and juicy, and the calamari was crisp without, and tenderly yielding within. We couldn't handle dessert, but we admired the sticky toffee pudding we saw at a neighbouring table. Followed by a stroll along the beach and a brief, icy, ankle-depth foray into the surf, it was a delightful outing, and worth the two-hour drive there and back (through which I mostly dozed).
Die Strandloper
On the R27 to Langebaan
+27 (0)22 77 22 490
Voorstrandt
Restaurant
Strandloper Way, Paternoster
+27 (22) 752-2038
Categories: Paternoster, Langebaan, West_Coast