Report: Acadia, Maine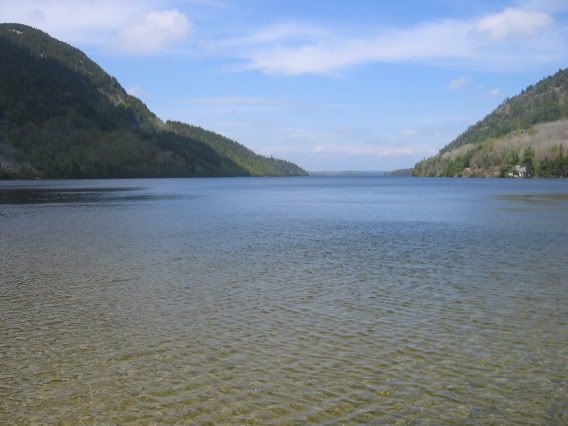 Acadia National Park is located on Mount Desert Island, which is connected to the mainland by a narrow bridge. Most of it national park land, it is a kingdom of pine forests and wide lakes and sea cliffs. We stayed in one of the larger towns, Bar Harbor, which was only starting to stir itself after the long, cold winter. We hiked in good weather, and drove in bad, slept late and ate well. A magical time.
Morning Glory Bakery

Small yet perfectly formed, this place serves coffee, freshly made sandwiches, and a range of baked goods. A perfect picnic supply stop for hikes! My one regret was that I didn't try their blueberry Danish, which looked amazing the first day we were there, but was already gone on the following forays.
Café This Way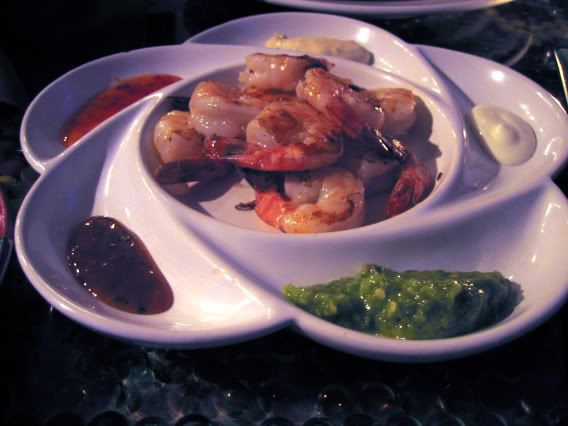 We had a decent breakfast, and a marvellous supper here. It's a down-to-earth, warm restaurant, filled with a pleasant buzz of locals, where the walls are brightly painted, hung with even brighter art, and the books on the shelves are colour-coded. A good selection of omelettes, pancakes, etc. greets you in the morning, and the evening menu changes with the seasons. We skipped main course, and instead shared three appetizers and a dessert. We ate:
- lavash pizza, topped with brie, pear and mango-duck sausage
- Spring rolls filled with crabmeat, shrimp, lobstermeat, garlic, ginger and rice noodles, drizzled with sweet plum, ginger and chilli sauce
- Grilled prawns with five dipping sauces
It was all absolutely, utterly perfect. The pizza was light yet richly flavoured, the spring rolls were made from phyllo, and were undoubtedly the most delicate spring rolls I have ever had. The wrapping was thin and crisp without a whisper of grease, and the filling was succulent and sweet. The prawns were fresh, perfectly cooked, and each dipping sauce – jalapeno mojo, tequila lime, Cajun tartare, sweet chilli, plum ginger – was interesting and different. Desert was a tart-sweet blueberry pie, with ice cream. The meal blew us away, and was the culinary highlight of our time in Maine.
Mount Desert Is. Ice Cream
We dutifully went to Ben & Bill's Ice Cream Parlor, much touted as a local ritual. The ice creams held the unusual distinction of being way too sweet, and yet totally tasteless. We threw them away, half-eaten. It was only on our last night that we sidled past Mount Desert Is. Ice Cream, which is apparently new, and a mere two blocks away from our first ice cream derailing. We only had space to taste, but what tastes they were: blueberry basil sorbet, chocolate wasabi, red banana sorbet, fresh and crystallized ginger… if I ever go back, this promising place will be on my must-eat list.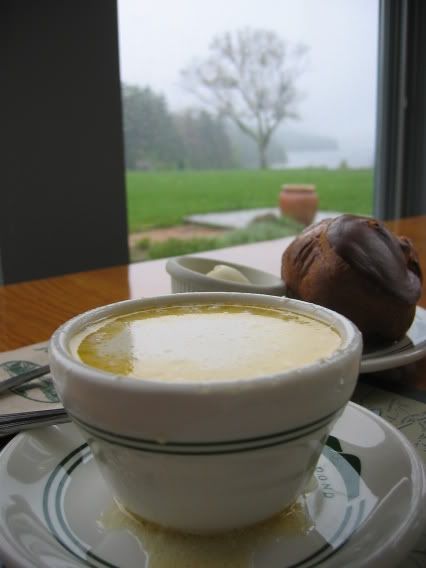 Jordan Pond House
The only place to eat inside the National Park, Jordan Pond is, as expected, overpriced, touristy, and mediocre. Its famous popovers were pleasant, but the clam chowder was pure cream only faintly flavoured by seafood (and way too many potatoes as poor compensation), its baked scallops were ordinary, and its coffee terrible. Who cares if it's a rite of passage – I'd give it a miss, and take a picnic instead.
West Street Cafe
Our last meal in Bar Harbor, and both Big Spoon and I were craving simple, no-frills fish, but we were struggling to find something unpretentious and not too touristy. Enter: West St Cafe, along the harbour. I asked the manager about the seafood on the menu, and he told me upfront: "The Haddock's not local, but the lobster sure is". Impressed by his honesty, we ate a reasonably priced and simple meal here. I wouldn't return for the french fries, or the tartare sauce, but as the manager promised, the lobster was fresh, and a relief after so many fancy restaurant meals! Locals abounded, the decor was unabashedly nautical kitsch, and our watiress was friendly. Nuff said.
Morning Glory Bakery
Rodick St
207- 288-3041
Cafe This Way
14 ½ Mt Desert Street, Bar Harbor
207-288-4483
Mt Desert Island Ice Cream
Kennebec Street (overlooking the park), Bar Harbor
207-735-5911
Jordan Pond House
Park Loop Road, Acadia National Park
207-276-3316
West Street Cafe
76 West Street, Bar Harbor
207-288-5242
Categories: Bar_Harbor, Maine, Lobster, Acadia