Report: Route One, Maine
Maine, continued...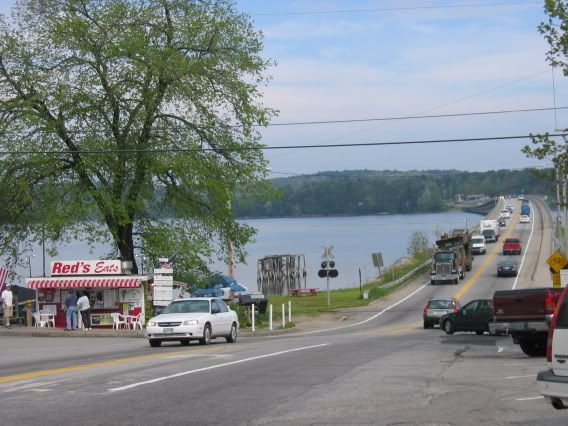 The next day we rented a car and headed north for Acadia National Park. We rejected the faster motorway in favour of a leisurely five-hour drive along Route 1, which took us alongside the sea, through rural areas, and little towns. I was smitten by the assortment of signs we passed, advertising small home industries – quilts, eggs, jewelry, furniture. It was a glimpse of 'real' America, and the hard-working, enterprising Americans who inhabit it, so far from the typical tourism of the larger cities. Although the region is popular with local holiday-makers, we were there one week before Labor Day Weekend, so most of the shops and attractions were opening, but the hordes had not yet descended.
Now, one thing drummed into my head by all my research into the area is: you haven't visited Maine unless you've eaten lobster (especially a lobster roll). And blueberries, and fried seafood. Poor Big Spoon – he didn't know what hit him. On our way to Acadia, we stopped at Red's Eats, which is a tiny takeout shack in Wicasset, alongside the highway. You order at the hatch, wait for your name to be called, then take your food around to the little deck around back, which overlooks the water – and the highway. We enjoyed our meal, although it sat like a rock in our stomachs for hours after. A common problem with deep-fried anything! We shared a lobster roll, which is tail and claw meat, on a toasted, buttered hot dog bun. With this quintessential Maine dish, arguments over mayo versus butter abound, but all research sources were unanimous: no fancy other ingredients, the bun must be a simple hotdog roll (none of this ciabatta or baguette bull, now), and it must be cold. Now, Big Spoon and I are not connoisseurs of this particular dish, and so have the temerity to critique our specimen at Red's Eats thus: the lobster roll was as good as Maine tradition lets it be. The meat was generous and tender, but its flavour is dulled by its cold temperature. While I applaud simplicity, I would not have turned down other, additional sandwich fillers. Criticisms aside, we enjoyed it, and our onion rings too. Big Spoon tried his first clam here, a big belly clam, deep fried, with less success. As a clam lover, I can attest to the fact that the clams were good, tender (not overcooked, a fatal clam-cooking error) and flavourful. I guess that clams are just not Big Spoon's thing, and he spent the rest of the meal simultaneously wolfing down our lobster roll, and gazing at me reproachfully for 'tricking him into eating a rubbery intestinal thingie'.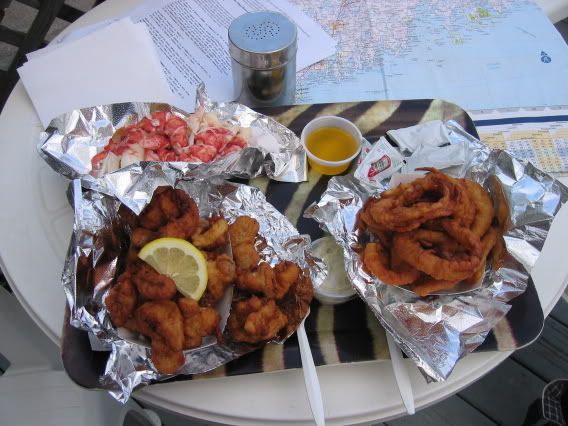 Red's Eats
Water and Main Street
Wicasset, ME

Categories: Maine, lobster, clams