Taleggio, Pear and Arugula Tart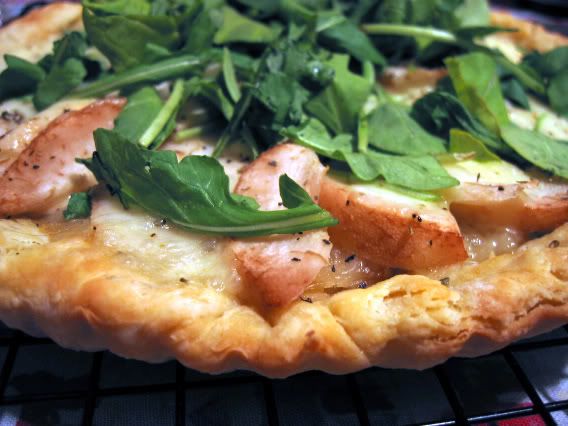 Today I experienced one of those moments where I realize how food-obsessed I am.
It was one of those typical kitchen accidents: I was rushed, trying to monitor and fuss over three different dishes at once, and distracted by background noise. I attempted to lift a piping, just-out-of-the-oven tart out if its tin, by pushing upwards on its removable bottom while holding onto the fluted tin frame with a clumsy oven glove. Recipe for disaster, I know. Well, the inevitable happened, and just as I lifted the tart free on its tin base, I lost my precarious grip on the circular frame, which started sliding down the arm which was holding the tart. There's that split second, where everything slows down and in a moment of blinding clarity, you think a naughty word, which for the sake of this blog I will rephrase as damn. Damn. You think. This is going to hurt. And it did, hot metal bouncing down my forearm. It probably took me a good five seconds to slide the tart onto the counter and release the evil, hot frame from its hoolah-hoop embrace of my arm. When one of my flatmates entered ten seconds later to find me with my arm under the tap, frantically trying to stop the residual heat searing through my skin, she asked, puzzled, "If you saw it happening in slow motion, why didn't you just drop the tart?"
It never even occurred to me that dropping the tart, my perfect, beautiful tart was an option. Pain is the price you pay for insulting that perfection with clumsiness, and like all dedicated cooks, I paid it. Although I doubt I'll act any differently next time!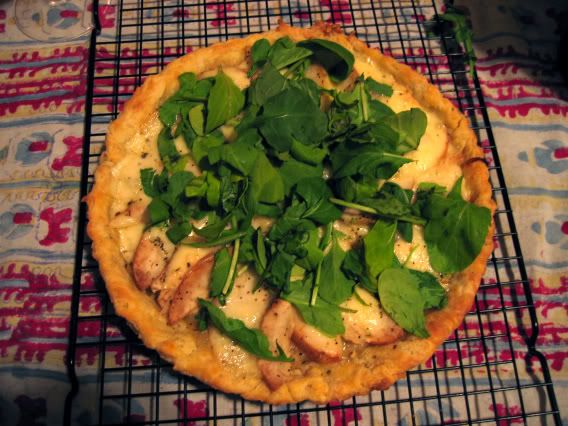 My Taleggio, Pear and Arugula Tart

This trinity forms one of my favourite flavour combinations. Tonight it was supposed to recline on a sourdough pizza base, baked on the braai (barbeque), but my sourdough starter refused to cooperate. So I used a shortcrust pastry crust instead, and the results – flaky, crisp base, sweet roasted pears, gooey, ripe cheese and peppery, fresh leaves – were spectacular.
1 disk shortcrust tart pastry
2 pears, ripe but still quite firm
1 small wedge taleggio, camembert or other sharp-tangy, soft aged cheese
A handful of rinsed, dried arugula leaves
Two onions, finely sliced and sautéed until soft and caramelized (optional)
Prepare enough shortcrust pastry (or use my pie dough,
here
, without the sugar) to line one 23cm/9-in. round, fluted tart tin (ideally with a removable base). Rest it in the fridge for at least twenty minutes, then roll it into a circle, and place in the buttered tart dish.
Prick the base with a fork, and rest the tin in the fridge for 10-15 minutes. This prevents the crust from losing its shape in the oven. Place the tart tin in a 400F/200C preheated oven. Immediately turn the temperature down to 350F/180C, and bake until the crust is crisp and beginning to darken, maybe twenty to thirty minutes. The crust should still be able to take another fifteen minutes in the oven without getting too dark.
Remove the crust from the oven, but don't turn the oven off. Peel your pears, quarter them and remove the seed core with a paring knife. Slice into 3-4mm (1/8-3/16th of an inch) thick slices. If you're using the caramelized onions, spread them over the base of the tart. Then place the pear slices in overlapping, concentric circles to cover. Cut the cheese into small chunks, and drop these over the surface of your tart. If your cheese has quite a hard rind, slice it off first. Sprinkle lightly with salt and freshly ground pepper, and perhaps a splash of olive oil if you wish.
Return to the oven, and bake for another 15-20 minutes, until the pears are softened but still hold their shape, and the cheese has melted. The crust should be golden but not brown. Remove from the oven, and gently lift the tart from the dish (without burning yourself). Throw over the arugula leaves, and serve immediately.
Categories: Recipe,