Philadelphia (Part I)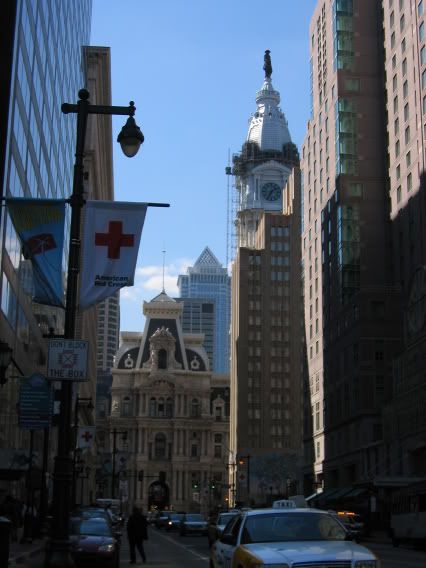 I just spent three glorious spring days in 'the city that loves you back'. It's a good motto; while Philly is very much a modern, big city, it's both friendlier and more manageable than New York or Boston. It was my first visit, and Mrs Malva, my South-African-Philadelphian flatmate here in Providence, was my guide. While we visited both the Franklin Institute Science Museum and the Rodin Museum, much of our time was spent pounding the streets and hunting down the food, armed with many recommendations from the
Chowhound Pennsylvania board
. I will divide my reviews into three sections – downtown Philly, Reading Terminal Market, and Lancaster County – and post them over three days.
Downtown PhiladelphiaLakeside
Chinese Deli

207 N. 9th St (between Race and Vine)
Pretty much a unanimous recommendation, which is quite unusual on the Chowhound boards. As one poster noted, this is neither a deli, nor on a lake. But Chinese it indubitably is. A small, no-frills place run by friendly, competent servers, we ordered dim sum off the menu, which included normal entrees (specials were posted on the wall). Lakeside does traditional dim sum, but with a skilled, light hand. The steamed buns positively floated, the rice rolls were positively ethereal, and the sesame balls were airy (no mean feat for what amounts to deep-fried rice gluten). Other highlights included chiu chow (tofu skins stuffed with shrimp, which were juicy, crackly and soft in all the right places), pak choy with garlic (tiny, tender, leafy, green bulbs served with whole, roasted garlic cloves), and lotus paste buns (the lightest I've ever had). Okay-ish but not encores include black bean squid (some pieces were strangely tough) and the vegetable rice roll (slightly watery; the beef ones packed more flavourful punch). Three of us shared eight plates, left comfortably full and paid $23 before tip.
Penang Malaysian Cuisine
117 N. 10th St (between Race and Arch)
I was taken for dinner here by Mrs Malva's parents. I've never had Malaysian food, so I cannot comment on authenticity, but everything was delicious. This restaurant was wonderfully airy and beautifully decorated – something of a rarity in Chinatown. Five of us shared:
Roti canai, a crumpled pile of crispy-soft, translucently light Malaysian crepe, with a curry dipping sauce.
Roti Telur – a similar crepe, filled with onions in an egg batter, also served with a curry sauce.
Phoenix Shrimp – shrimps encased in a crumbed, taro (a bit like a purple potato) batter, deep fried. Juicy, moist, yummy.
Seafood Chow Fun – Slithery, soft wide noodles tangled up with shrimp, squid, vegetables and scraps of egg, coated in a barely-there, moist sauce.
Nasi Lemak – a perfect bowl of coconut rice, served alongside a crunchy, sharp anchovy chicken curry, sliced hard-boiled eggs and cooked vegetables.
Penang Kari Ayam – Chicken cooked with lemon grass and chili paste, in a rich coconut curry sauce.
And a whole, deep-fried red snapper (taken from a tank of live, wriggling fishies) in a black bean sauce, blanketed with handfuls of coriander leaves.
We finished with red bean ice cream, and deep-fried coconut ice cream (which came with deep-fried bananas, a generous touch). I cannot tell you how much it cost, because I was a fortunate guest. Regardless, I now want to go to Malaysia, if this is any indication of what to expect.
Capogiro
119 S. 13th St
This was a wildcard, thrown in by Mrs Malva, and turned out to be the surprise triumph of the trip. After living in Italy for a year, I am highly critical of so-called 'gelaterie', which are often nothing more than glorified ice cream bars. Capogiro, meaning somersault in Italian, is unequivocally the best gelato I have eaten outside of Italy. The flavours change daily, and offer both old standards and exciting, creative newbies. And above all, they all provide that elusive, light, creamy, almost moussey gelato consistency. We visited twice, my favourite flavours were:
Bourbon Vanilla – very moussey, not too sweet.
Rosemary, honey goat's milk – I do not like goat's milk cheese, but this gelato was barely tangy, and definitely not farmy. The spicy rosemary hits you first, followed by a lingering note of honey.
Other gelato and sorbet flavours on display included: heirloom apple, cilantro lime, Chinese five-spice, pineapple sage, tangerine honey, and many, many more.
Two scoops are a steep $4.50, but are worth every penny.
Places I didn't get to, but wish I had:Dmitri's

At 3rd and Catherine, also at 23rd and Pine.
Affordable, simple Greek seafood.
Nanzhou Handdrawn Noodle House

927 Race St
Hand-pulling noodles is a dying art, both fun to watch and delicious to eat. Next time.
Other places I ate at but don't particularly recommend:Continental Mid-Town

1801 Chestnut St
We were hungry, and a friend of Mrs Malva's recommended this place. It's a funky, bustling, bar-meets-diner joint, better suited to the start of a night out on the town. The American-fusion dishes weren't bad, but not good enough to make this place a food destination in itself. I paid $17 before tip to share a calamari salad, quesadillas, crab-brie wontons and shoestring fries.
Miel Patisserie
204 S. 17th St
I had high expectations that weren't met. As a space, the patisserie felt cold and awkwardly decorated. The expensive, $5.50 desserts - we tried the Miel Gateau and the Gateau Bebe - were well executed but failed to excite or even elicit moans, unlike some of the delights of Reading Terminal Market. For which you will have to wait until tomorrow…
Until then, the South African flag, flying in Logan Square...
Categories: American