FRANSCHHOEK UNCORKED
Last weekend, we drove up to Franschhoek. My family has a farm not too far away, and the trip is always a lovely excuse to stop along the route and pick up olive oil, cheeses, wine, bread, pork products and other delights from a whole series of small producers along the way.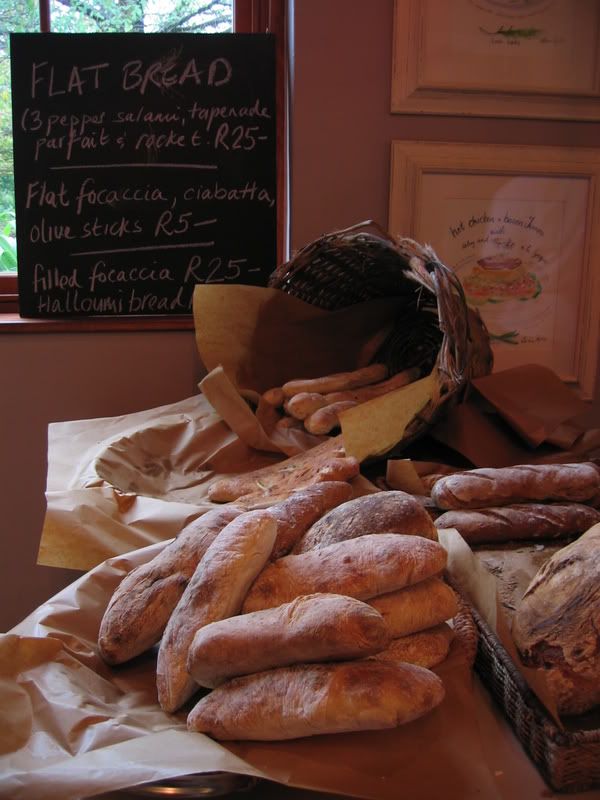 Now, I hate to play favourites, but Bread and Wine Deli is hands-down one of my favourites, and as have previously alluded to
here
and
here
. Situated on Môreson (or
Soleil du Matin
, depending on your language of preference, and level of pretension!) wine farm, it is attached to a lovely restaurant of the same name. Unlike the restaurant, whose hours of operation I've never quite got the hang of, the deli is open until 5pm on weekends, and offers a superb selection of home (farm!) made breads and charcuterie (cured by Chef Neil Jewell).
However, once we had selected, after much oohing and aahing, some pistachio-studded mortadella, Spanish cured pork loin and a couple of links of
saucisson demi-sec
, I noticed to my dismay that there was no beetroot ciabatta on offer. In fact, there was
no
bread on offer. "Um, what happened to the bread?" I asked the cheerful sales assistant. "Oh, it's all in the back," she told me, "You can go through and get it yourself". I was struck with the incongruous image of me, wading into the restaurant in my wellies (they've got flamingoes on them, but they're really cool, ok??) and removing bread from the bread baskets at various tables while customers looked on, aghast. But nothing ventured, nothing gained, so I dragged Big Spoon away from his perusal of gooseberry jam, and we headed into the restaurant.
Only, there was no restaurant. All the tables had been cleared away,
and the entire room was filled with food stalls and happily munching, mildly tipsy people. There was cassoulet and steamed mussels, salad-strewn cracker bread, boerewors rolls, fresh breads, micro greens and baby vegetables, locally produced buffalo mozzarella and a make-your-own pizza station. And obviously, lots of wine to wash it all down. In other words, a market!
As
previous
posts
will
illustrate
, there's little which warms the cockles of my heart like a market. By the time I had fully taken in the surroundings, Big Spoon had already found us a table, called all our friends who were due to meet us in Franschhoek and redirected them to Môreson, and had organised himself a boerewors roll, a pizza, a coffee and a glass of wine. Motivated by good food, that man could manage an army, or at least a full set of cutlery.
It turned out that we had stumbled onto
Franschhoek Uncorked
,
the valley's annual spring wine festival, where visitors travel between twenty-two participating wine farms, drinking and, in this particular location, eating up a storm. What's not to like? So like us, I recommend you keep an eye out for next year's festival, which will hopefully happen at the end of August or beginning of September, next year.